Dead or Alive
(No Ratings Yet)
Loading...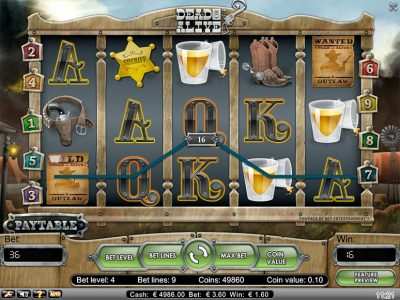 Do you enjoy it?
Why not play for real money?
Just click on the box below!
Dead or Alive
Welcome to the Wild West, the land of opportunity for the bold and strong-willed. Follow in the footsteps of pioneers who braved the border and found themselves a fortune. The Dead or Alive slot game transports you to an environment that crackles with tension and meaning; thunder and lightning in the sky, the creak of a slowly turning weathervane and the barking of a prairie dog. So have a shot of whiskey, pull on those cowboy boots and hat, holster your pistol, and watch out for that sheriff badge. That glimpse of gold may just be the making of you.
The Thrilling New Slot Game
First-rate graphics and the eerie sounds of the frontier make this slot game fully immersive, while the tension and opportunity to strike gold and win big make it an absolute must try. Dead or Alive slot game is one of the most atmospheric and thrilling slot games out there. The symbols to look out for and the winning combinations of this game on the maximum bet amount in three combinations include:
10s, Jacks, Queens, Kings and Aces will win you

€

4 to

€

40

Shot glasses will win you

€

40 to

€

400

Cowboy boots will win you

€

60 to

€

600

Cowboy hats will win you

€

80 to

€

800

Sheriff's badges will win you

€

200 to

€

2000

The crossed pistol scatter symbol replaces any symbol and increase your chance of winning

 

Three wanted poster symbols mean free spins
How to Strike Gold
In Dead or Alive, there are several ways you can strike gold from your adventures:
       

Lay your bets and spin those wheels
In Dead or Alive, you have nine fixed lines to bet with, and you can wager €0.01, €0.02, €0.05, €0.20 or even raise the stakes all the way to €0.50 if you're feeling lucky. Just click on the amount you wish to bet. Once you've chosen your wager, hit the spin button to get those reels turning. The reels will stop at the end of the turn, and you can take stock of your winnings or your loss.
Connect adjacent 10s, Jacks, Queens, Kings or Aces to hit a small jackpot. Win bigger by connecting adjacent symbols from the old West. Shot glasses from the saloon. Supple but functional leather cowboy boots. Essential gear when the sun beats down on you. Strike gold by connecting the adjacent sheriff's badges. Those golden stars mean you'll need a saddle bag for all that wealth.
       

Wanted Dead or Alive slot

– build your notoriety
The Wanted poster replaces any symbol, and increases your chances of connecting symbols, and winning.
Free spins represent one of your best chances for winning big on Dead or Alive. Land on three or more crossed pistol scatter symbols anywhere on the reels and enjoy the sounds of the saloon in celebration of your 12 free spins. During your free spins, you'll enjoy a 2X multiplier on everything you earn. Every wanted poster that appears will stick in place throughout the free spins, further increasing your chances of that big payout. You can also re-trigger free spins, and enjoy watching the winnings roll in all over again.
The maximum payout is a massive €54,000. The Dead or Alive slot RTP is a staggering 96.8%. This is quite high meaning you have a higher chance of great returns.
What are you Waiting for, Partner?
Saddle up and get playing Dead or Alive slot game, there's real money to be made out in the Wild West. I'll even let you on a little secret to help you out: the wanted posters and the crossed pistol scatter symbols are the key to winning big. The bandit on the wanted posters might be a mean old villain and nasty bit of work, but out here, you need his help.
This symbol will help you make connections between the other symbols of the old West that you wouldn't otherwise. You should get excited when the scatter symbols appear. When three or more appear anywhere on the reels, it's time to start shooting those pistols in the air in celebration of the free spins. Sit back and watch the money roll in.
You can start with Dead or Alive slot free play to get acquainted with this brave new world. Bet with as little as €0.09, if you would wish to dip your toe in the water. Once you're feeling confident and bold, bet as much as 18 per spin. The more you bet, the more you rake in and win big.
Being transported to the Wild West is easy. Play Dead or Alive slot online for free on our website or bet with some real money. All you need is a smart phone, desktop or laptop. We bet you are now convinced to play for real money from this great Dead or Alive slot review.