100/1 Roulette





(88 votes, average: 4.06 out of 5)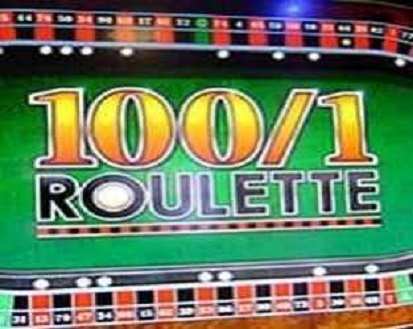 The UK Gambling Commission & ONLINESLOTSX are committed to preventing underage gambling.
This game can be accessed only after verifying your age. Free games are still available in some online casinos.
Choose a casino to play:

Vulkan Vegas





(603 votes, average: 4.92 out of 5)
Play
Betsafe





(323 votes, average: 4.91 out of 5)
Play

Bizzo Casino





(141 votes, average: 4.90 out of 5)
Play
Play for real money with bonus
Recommended Roulette Games
As always, you can try the demo version of this game on our website and play entirely for free – no download and no registration will be needed. The game is already on this page, just click the "play" button and wait for a couple of seconds, it will be launched in your browser.
The free demo roulette game comes with a virtual balance of 1,000 coins, which is more than enough to play free roulette for hours. And you can always replenish it by reloading the game – that balance will never end.
If you want to play 100/1 Roulette with real money, you can pick one of our recommended casino sites that we reviewed and chose only the best ones for you. Without further due, let's start our 100/1 Roulette review: truly interesting casino game.
Basic Rules of 100/1 Roulette
| | |
| --- | --- |
| DEVELOPER | NYX Gaming |
| RELEASE DATE | September 2015 |
| RTP RATE | 92.86% – 96.19% |
| MAXIMUM PAYOUT | 100,000 coins |
| FAIRNESS | Tested and approved by NMi |
| MIN/MAX CHIP VALUES | 0.10p – £100 |
The overall rules of 100/1 Roulette are the same as all other roulette games: you are trying to guess where the ball will stop. However, unlike classic online roulette, there is no classical roulette wheel in this game. Instead of a wheel, you get a "track" which contains 105 pockets. Five of these pockets functions like "0", and they are represented by geometric signs. The others are numbers, from 1 to 100, red and black.
You can place your stake for any outcome or multiple outcomes, just like classic roulette. And each outcome pays a different amount, 1:100 being the maximum one. The RTP rate of the game is between 92.86% and 96.19%, based on the betting strategy used. The payout rates and available bets can be seen in the table below:
| | | |
| --- | --- | --- |
| BET | EXPLANATION | PAYS |
| Single Number | Bet on a single number-pocket | 100:1 |
| Pair Of Numbers | Bet on two pockets | 49:1 |
| Three-Number Split | Bet on three pockets | 32:1 |
| Four-Number Corner | Bet on four pockets on a corner | 24:1 |
| Five Number Street | Bet on five pockets | 19:1 |
| Ten Number Column | Bet on ten pockets on a column | 9:1 |
| Fifteen Number Avenue | Bet on 15 pockets | 11:2 |
| Twenty Number Avenue | Bet on 20 pockets | 4:1 |
| Odd/Even Numbers | Whether the outcome will be an odd or even number | 1:1 |
| Red/Black | Whether the outcome will be red or black | 1:1 |
How to Play in 100/1 Roulette
Playing 100/1 Roulette is easy enough:
Place at least 1 chip on one of the betting options listed above. You can change the chip value from the same-named drop-down menu. It is possible to pick between eight chips, 0.10 being the lowest and 100 being the highest.
Click the "bet" button. Doing so will automatically spin the "wheel", which contains 105 pockets. From the "total stake" section, you can see how many coins you wagered for that spin.
If you are lucky enough, you will get paid according to the paytable above. Both the freeplay roulette and real money roulette versions of the game played the same way and offer the same payouts.
Features and Betting Limits
Both the real money and free game versions of 100/1 Roulette contains the same features:
The wheel looks like a race-track with 105 pockets. 

You can repeat the last stake automatically by clicking the "repeat bet" button. 

Last winning numbers can be tracked from top of the interface.

Pressing the "turbo spin" button will end the spin immediately and display the result. 

You can see the rules, payouts, and other important features of the game by clicking the "options" button.
We listed the chip values above, but they are not the same thing as minimum and maximum betting limits. These limits are different for each betting option, which we show as a table below:
| | | |
| --- | --- | --- |
| BET NAME | MINIMUM STAKE | MAXIMUM STAKE |
| Single Number | 0.10p | £250 |
| Pair Of Numbers | 0.10p | £500 |
| Three-Number Split | 0.10p | £750 |
| Four-Number Corner | 0.10p | £1,000 |
| Five Number Street | £1 | £1,000 |
| Ten Number Column | £1 | £2,000 |
| Fifteen Number Avenue | £1 | £3,000 |
| Twenty Number Avenue | £1 | £5,000 |
| Odd/Even Numbers | £1 | £10,000 |
| Red/Black | £1 | £10,000 |