Deal or no Deal Roulette





(15 votes, average: 3.8 out of 5)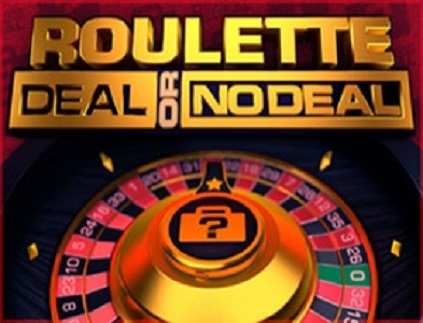 The UK Gambling Commission & ONLINESLOTSX are committed to preventing underage gambling.
This game can be accessed only after verifying your age. Free games are still available in some online casinos.
Choose a casino to play:

Vulkan Vegas





(603 votes, average: 4.92 out of 5)
Play
Betsafe





(323 votes, average: 4.91 out of 5)
Play

Bizzo Casino





(141 votes, average: 4.90 out of 5)
Play
Min. bet

0.1

Max. bet

10

Max win

progressive

RTP

97.3
Play for real money with bonus
Recommended Roulette Games
This game by Gaming1 was inspired by the popular TV show 'Deal or No Deal' by NBC, where the contestants were to win rdaddphp million, and one was required to progressively eliminate 26 bags which had the amount to be won.
With this concept, Gaming1 developed the Deal or No Deal Roulette game, which is an online casino game which exciting features. Punters have the option to play Deal or No Deal Roulette demo game or play for real money. When you choose to play free Deal or No Deal Roulette, you can start off with a full cash balance which will come in handy to get you started and to explore the features.
What Are the Rules for Playing Deal or No Deal Roulette?
Similar to the NBC show, in this game by Gaming1, there is an irresistible financier's offer where you are required to either settle for a deal where you forego revealing what is the suitcase or try your luck (No Deal) and reveal the suitcase with the hope of choosing the one with the winning payout.
Ideally, this online roulette game is similar to the European roulette games, and it features two virtual wheels. The inner ring has numbers 1 to 36 and one '0' green pocket. All these numbers have their respective equivalents in the betting grid for the main game. The outer ring features two pockets which are fitted with red and black telephones for players who prefer side games.
The main difference between this game and the TV show is that in this game, players only have access to 22 suitcases, unlike the TV show where there were 26 suitcases.
How to Play Deal or No Deal Roulette?
In the Deal or No Deal Roulette, you have the option to play the main game as well as the side game. In the main game, you can place your wager by clicking your target spots on the betting grid then spinning the roulette wheel. The ball will spin and stop at random winning pocket.
If you choose to play the side game, you just need to place your wager in the 'Bonus Bet' and then spin the wheel. This will trigger the two rings to rotate simultaneously.
If it's your lucky day and the ball drops onto the golden Bonus slot, the bonus round will be launched. In this case, you get to choose among secret suitcases. It is also worth noting that if you select the suitcases progressively, this will check off any awards worn from the game's board.
If the ring with a golden pointer combines with Bonus segment, you may win a 1,000-times-your-bet jackpot!
Here is an outline of the available table bets and their odds:
| | |
| --- | --- |
| Bet | Odds |
| Straight | 35:1 |
| Split | 17:1 |
| Street | 11:1 |
| Corner | 8:1 |
| Six-Line | 5:1 |
| Column/Dozen | 2:1 |
| The Rest (Odd/Even, Odd/Even, Low/High) | 1:1 |
Roulette players are offered a wide range of bet options ranging from Straight offering odds of 35:1 to other bet options such as Odd/Even, Red/Black, and Low/High at even odds. It is also important to mention that the payout of the bonus round can go as high as X1,000.
Features and Bet Limits
As earlier mentioned, this game features two rings: the outer and inner ring. The outer ring has pockets will numbers 1 to 36 and a "0" green pocket. The inner ring has a pointer that can bring you a jackpot.  The game accommodates both low and high rollers with the bet limit set at 0.1 to 10 credits.
The payout rates of the Deal or No Deal Roulette game are quite impressive, offering a 94.74% RTP and a house edge of 5.26%. Playing the game is not complicated, but there is no specific strategy to beat the house since this is a game of chance.
However, with the demo version freeplay roulette, you can get an idea of what to expect when playing the game for real money. More so, you can get a competitive advantage during the side game where it is always advisable to pass on the banker's offers in the first and second bonus. Play a Deal or No Deal free game on our site, or find the best real money casino sites.