European 3D Roulette





(60 votes, average: 3.87 out of 5)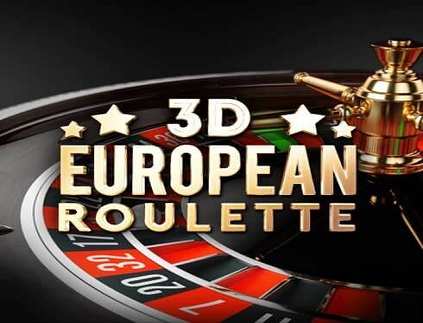 The UK Gambling Commission & ONLINESLOTSX are committed to preventing underage gambling.
This game can be accessed only after verifying your age. Free games are still available in some online casinos.
Choose a casino to play:

Vulkan Vegas





(603 votes, average: 4.92 out of 5)
Play
Betsafe





(323 votes, average: 4.91 out of 5)
Play

Bizzo Casino





(141 votes, average: 4.90 out of 5)
Play
Min. bet

0.5

Max. bet

3000

Max win

x35

RTP

97.3
Play for real money with bonus
Recommended Roulette Games
Playtech has succeeded in revolutionising the gaming industry through the creation of the European 3D Roulette. In terms of gameplay, 3D Roulette is similar to the ordinary European Roulette game, featuring numbers 1 to 36 and a single zero pocket. The main difference, however, is the enhanced graphics of the 3D Roulette which have been pleasing to many online gamblers.
The Basic Rules of This Magnificent 3D Roulette Game
As earlier mentioned, as far as gameplay goes, 3D Roulette is just like the European Roulette with a series of numbers from 1 to 36 and a single zero on wheel. If you are familiar with the European Roulette, playing 3D Roulette will be more entertaining since you will be using your usual strategies in a game with enhanced 3D graphics and visuals.
The game is played on a single screen, and the layout is highly user-friendly. Better yet, the wheel of the 3D Roulette game is in 3D, which makes it glorious and enjoyable to play. With this  table board, you can place bets similar to the European Roulette game, including outside bets and inside bets. Here is an outline of the bets and their odds.
| | | | |
| --- | --- | --- | --- |
| Inside Bets | Odds | Outside Bets | Odds |
| Straight-up | 35/1 | Dozen | 2/1 |
| Split | 17/1 | Column | 2/1 |
| Street | 11/1 | Low/High | 1/1 |
| Corner | 8/1 | Odd/Even | 1/1 |
| Line | 5/1 | Red/Black | 1/1 |
Roulette players have a wide range of bet options to place ranging from the Split at odds of 17/1 to Low or High at even odds. You can also use the racetrack bets which are displayed on the left-hand side of the screen where you can choose neighbouring number groups depending on their position on the roulette wheel.
Even better is the fact that European 3D Roulette accommodates both low and high rollers where the minimum bet limit is set at 1credit. High rollers have the option to wager the maximum limit of 1,000 credits. It is, however, important to note that each type of bet listed above have its max limit in the amount you can wager. For instance, you can only wager a max of 25 credits for a straight-up bet and a maximum of 500 credits when you choose to place odd/even bets.
Strategies of Playing 3D Roulette
Playtech has managed to provide a game that combines what a new player and an experienced player would be looking for in online roulette. The brilliant graphics and the low house edge are just the icings on the cake. The game provides excellent betting options which fit for all types of budgets and strategies.
In terms of payout rates, the game offers payouts of RTP 97.3% which is quite impressive, considering you also have other advantages of playing the 3D Roulette game, such as a close view of the spin table.
You also have the privilege to personalise your gaming experience. Click the 'Visual' tab feature and adjust the options to suit your preference. Among the adjustments that you can make are numbers shading, turret details, and centre lines, etc.
Key Features and Bet Limits
The 3D Roulette does not offer many unique features and is just a standard roulette game. The European 3D graphics are the only main features in the game. You have the option of all inside and outside bets, and there is also a separate racetrack that allows you to place neighbour and call bets. Another great feature that you will probably not find in most roulette games is the Red/Black split bets. This is a great option for expert players. Apart from these features, the game does not differ from other roulette classics, and it has managed to capture the traditional spirit perfectly.
In terms of bet limits, the coin value limit for single numbers range from 0.20 to 20 credits, and for even-money bets is 0.50 to 200 credits.
If you are a beginner, you can start with the freeplay roulette version before playing with real money. When you play 3D Roulette free game, you will have a full cash balance, and you get to explore all the features. More so, you can play 3D Roulette online free of charge on our site. A demo version requires no registration and no download.
Overall, 3D Roulette is one of the very best games in terms of graphics and visuals. However, it can be quite demanding when it comes to the loading time. Another aspect that makes your gaming experience pleasurable is the perfect layout. Be sure to check it out today. Try European 3D Roulette wheel now!