Key Bet Roulette





(136 votes, average: 4.47 out of 5)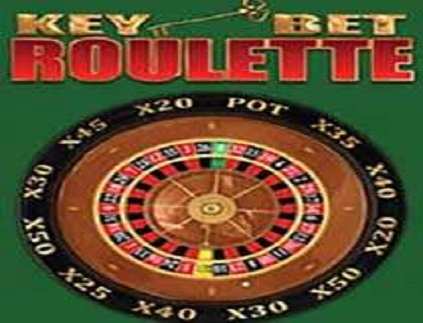 The UK Gambling Commission & ONLINESLOTSX are committed to preventing underage gambling.
This game can be accessed only after verifying your age. Free games are still available in some online casinos.
Choose a casino to play:

Vulkan Vegas





(603 votes, average: 4.92 out of 5)
Play

Slotty Vegas





(No Ratings Yet)
Play

Betsafe





(323 votes, average: 4.91 out of 5)
Play
Min. bet

1

Max. bet

250

Max win

25 000

RTP

95.34
Play for real money with bonus
Recommended Roulette Games
Key Bet Roulette is a type of roulette game that comes from Scientific Gaming's library. Its main thrust is to pay high rewards. The most exciting part of this game is that it a randomly awarded multiplier on the pot. In this review, we will be taking a look at the game's features and benefits, and we will also learn how to play this roulette variant.
Key Bet Roulette Demo Rules
This one is set-up as a classic European Roulette. It has 36 digits, a zero, but there is an extra slot in the roulette wheel which called Key Bet. If the ball lands on this spot and you have a bet on it, you win the pot of 100x your stake!
The rules take after any online roulette. You place your bet on any of the following:
A number
Set of numbers
Type of number
Colour of number
Group of number
The payouts vary from one type of bet to another, as the odds also vary. You win a prize if the ball lands on a slot that represents any of your bet. In this variant, the minimum wager on any bet type is £1 chip.
Key Bet Roulette Tips on How to Play
To start playing, click on the Stake Low button. You can click this again, and it will become Stake Medium or Stake High. For Stake Low, the value of each chip is £1. For Stake Medium, it is £2, and then £10 for Stake High. Next, choose the spot on the table where you want to place your bet. Click on it again if you want to add more bets into it.
Once you are done, click on the Spin button. The ball will drop on the wheel and stop. If the ball landed on any slot that matches any of your bets, you win a cash prize.
There are so many possible bet combinations a player can make in roulette games. Here are the most common and their respective payout rates:
Single number – pays 35 to 1.
Split – pays 18 to 1.
Row – this is a bet for three horizontal numbers that pay 12 to 1.
Square or corner – a bet for four different digits that meet in a corner; it pays 9 to 1.
Column or dozen – here, you are betting on 12 numbers. If the ball lands on any of these 12, the payout is 3 to 1.
The game also has outside bets. These are odd/even, red/black, and two groups of 18 digits each. The maximum you can bet on a straight number is £25. On outside bets, the maximum is £500. For dozens or columns, you can bet a maximum of £250.
Key Bet Roulette Features
The main feature of the Key Bet Roulette is the Key Bet itself. You have to bet on this yellow slot to win the pot. The prize of the pot is 1,000x your bet. At Stake High, you will be paid £1,000 for a bet of £10, and £25,000 for a maximum bet of £250.
Basically, the Key Bet is a side bet. Outside the spinning wheel is the Key Bet disc. This is going to spin and highlight several multipliers. The highlight can stop either on the multiplier or the pot. If you have a side bet and the ball lands on the key bet, you will win either the multiplier or the pot, depending on what is highlighted. If you wagered £250 on the key bet, the potential pot is £25,000. However, if the highlighted key bet prize is 50x, you will not get the pot but 50x your bet on the Key Bet.
Summing-up
This free play roulette has the same odds as the American Roulette variant. The one innovative aspect of this free game is the side bet, which can really pay off if you are lucky. Overall, the odds of winning the side bet is only 2.63%. If you think about it, there is a possibility that you hit this after 100 spins.
Play the demo version of the Key Bet Roulette on our site first before venturing out into the real cash game. Understand how the free roulette works so you can form a betting strategy that will improve your winning odds. Roulette is a game of chance that is best played with consistency. Keep practising until you discover a winning strategy that works is for you.