Roulette Royal





(51 votes, average: 3.84 out of 5)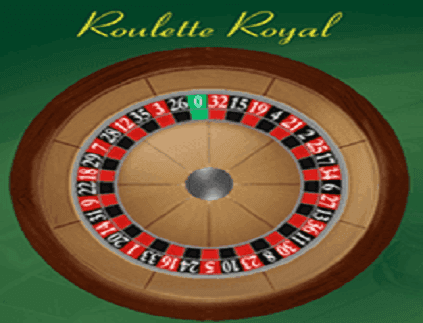 The UK Gambling Commission & ONLINESLOTSX are committed to preventing underage gambling.
This game can be accessed only after verifying your age. Free games are still available in some online casinos.
Choose a casino to play:

Vulkan Vegas





(603 votes, average: 4.92 out of 5)
Play

Slotty Vegas





(No Ratings Yet)
Play

Betsafe





(323 votes, average: 4.91 out of 5)
Play
Play for real money with bonus
Recommended Roulette Games
What Is Royal Roulette Game?
Royal Roulette is the name of an online roulette game based on the French Roulette rules and developed by Amatic Industries. However, please note that there are several other "Roulette Royal" games developed by other providers too, both for desktop and mobile. But since almost all of them are based on the French rules, our explanations will be valid for most of them. Royal Roulette is very similar to the European variant, where the wheel has a single zero and 37 numbers in total. However, there are additional betting options that increase the overall RTP rate.
Everything You Need to Know About Royal Roulette Game: Rules & Features
The wheel has 37 numbers in total (0-36). There is only one zero, just like the European variant.
When the game starts, the wheel starts to spin with a tiny ball on it. Your goal is to predict where the ball will land when the wheel stops.
You can place a bet for a single number, multiple numbers, colours, and whether the number will be odd or even. In other words, exactly the same as European roulette. However, Royal Roulette has five more betting options. We will explain them below.
Each betting option has a different maximum limit. We will also show them in the paytable below.
Royal Roulette offers an RTP rate of 98.65%. This is much better than European roulette. In fact, it is nearly as good as blackjack. The reason for the high RTP value is the special betting options for this variant. Some of these options refund a certain percentage of the initial bet even if the player loses, which causes the RTP rate to increase.
How to Play Royal Roulette Demo: Step-by-step
Start by selecting the bet amount. You can do this by clicking on the casino ships located at the bottom. The smallest value is a 50-credit chip, and the highest value is a 1,000-credit chip. The maximum table limit of Royal Roulette game free is 18,000 credits. You can double click on the chips to change your bet value.
The second step is selecting a betting option. Take a look at the paytable below to get some ideas: each outcome offers a different probability and payout. Drag your chips on top of the betting option you choose. Doing so will complete the "placing bets" process. Make sure to respect the minimum/maximum limits of the betting options.
Click the "start" button. The wheel will turn and stop. If you are lucky enough, you will get paid according to the paytable below. If not, keep spinning the wheel. You can repeat your last bet by clicking the "repeat bet" button or take back your chips by clicking the "undo table" button.
PAYTABLE
BET NAME
PAYOUT
MAX. BET LIMIT
Full number
35:1
1,000
Split
17:1
2,000
Street
11:1
3,000
Corner
8:1
4,000
Line
5:1
6,000
Column
2:1
12,000
Dozen
2:1
12,000
Black/Red
1:1
18,000
Odd/Even
1:1
18,000
Low/High
1:1
18,000
As mentioned above, you get five more betting options too.
These are:
Serie 5/8: Also known as "tiers du cylindre". It means "thirds of the wheel". Placing a bet on the following 12 numbers: 5, 8, 10, 11, 13, 16, 23, 24, 27, 30, 33, and 36. Pays 3:1 and your winning chance is 32%.
Big Serie: Placing a bet on the following numbers: 0, 2, 3, 4, 7, 12, 13, 18, 19, 21, 22, 25, 26, 28, 29, 32, and 33.
Orphelins (Plein): Placing a straight bet on the following eight numbers: 1, 6, 9, 14, 17, 20, 31, and 34.
Orphelins (Cheval): Placing a straight bet on the following five numbers: 1, 20, 14, 31, and 9.
Zero Game: Also known as "jeu zero". It is placing a bet on the following numbers: 0, 3, 12, 15, 26, 32, and 35.
Winning the Game: The Best Royal Roulette Strategy You Can Use
Keep playing the demo version of Royal Roulette on our site even if you know the basics. French rules are useful, but they are also complex. Make sure to learn them and understand each betting option.
Serie 5/8 and Big Serie are the best betting options in this variant.
If you don't like to take any risks, keep betting on outside bets (red/black, odd/even, low/high). They still have the highest winning chance.