Sapphire Roulette





(188 votes, average: 4.53 out of 5)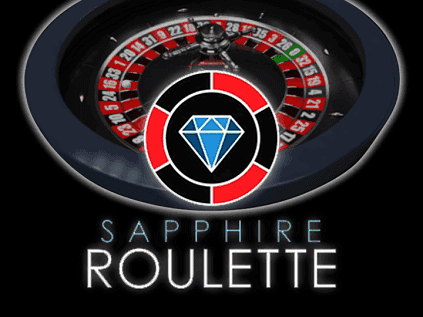 The UK Gambling Commission & ONLINESLOTSX are committed to preventing underage gambling.
This game can be accessed only after verifying your age. Free games are still available in some online casinos.
Choose a casino to play:

Vulkan Vegas





(603 votes, average: 4.92 out of 5)
Play
Betsafe





(323 votes, average: 4.91 out of 5)
Play

Bizzo Casino





(141 votes, average: 4.90 out of 5)
Play
Min. bet

0.25

Max. bet

25

Max win

920000

RTP

97.3
Play for real money with bonus
Recommended Roulette Games
Sapphire Roulette is a variant of European Roulette. Microgaming developed this game and released it in 2019. It is an electronic online roulette where you can bet with chips between £1 and £50 on every spin. It has several bet limits and various features, which we will learn today in this review.
Sapphire Roulette Game Rules
Since it is a European roulette variant, all the rules that apply are the same as the classic European freeplay roulette.
The only effort you need to put into the game is to bet on a number, colour, or group of numbers that you want. The ball will drop, and if it stops on any of the choices you made, you win a prize.
The prizes vary according to the type of bet that you made, as there are several payout rates in the game.
Here are the most common types of bets and payouts.
Straight bet – a bet on a single number that pays 35:1; the maximum bet is £10.
Square – place a bet on four digits that meet at one corner. The payout is 8:1, and the maximum bet is £40.
Split – a bet for two numbers that are adjacent that pays 17:1. This one has a limit of £20.
Outside bets – it is a bet where your guess is that the ball will land on either 1-18 or 19-36. The pay is 1:1, and the maximum bet is £80. A variant of this is the Odd/Even. Here, you bet whether the ball would land on an odd or even number. The payout is also 1:1.
The last type of outside bet is red or black. Here, you are guessing what pocket colour the ball is going to land on. If your guess is right, the payout is 1:1. All outside bets have a maximum of £80 per bet.
There are other bet types in the game, all of which are the same as the classic European roulette. The ones laid out above are the most common with either the highest pay or highest odds.
Steps to Operate the Sapphire Roulette Free Play Game
The first step is to scroll through the chips below the playing area. Choose a chip size and then click it. Next, click on the area where you want to play and place that bet—you can choose a colour, number, or a group of numbers. You can also bet on odd or even.
You can double your bet by clicking the 2X button. Once everything is ready, click on the Spin button. The ball will drop on the spinning online roulette wheel and stop at a number. If the ball stops on a number where you have a bet, or its colour or type (odd or even) matches your bet, you win a prize.
You are not limited to betting on only one type of bet in both the real-cash and demo version. You can bet as much as you want, but there is a maximum amount for each bet type.
Features and Bet Limits of the Roulette Game
Each bet type has its own maximum limit. However, all bet types cannot exceed £80 on the main layout. The hippodrome bets have their own rules. For the straight bet, the maximum is £10 per digit.
The game has several features that can make your player experience better than other online roulettes.
Auto re-bet – you can activate this so the free roulette will re-bet your previous bets regardless of the outcome. It is best used if you have a betting strategy.
Turbo Spin – the ball will stop at a number faster than a normal spin. The normal spin imitates how a roulette ball spins in a real environment.
Hot and Cold – this is a box on the top right section of the playing area that shows the most common numbers that win. Cold numbers are those that almost do not get a hit.
The game also has an autoplay button. With this button, you can program the roulette to spin between 5 and 100 spins. You can also set stop-loss and stop-win limits.
Summary
The Sapphire Roulette demo shows us that it is European roulette. However, it does have higher bet limits, which means you can take bigger risks and take home bigger rewards if you are lucky. What makes it different from traditional roulette games is that the table is made of blue felt instead of green.
Play the Sapphire Roulette free game on our site and get lucky!