Vertical Roulette





(48 votes, average: 4.67 out of 5)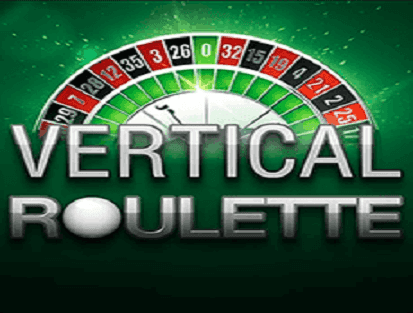 The UK Gambling Commission & ONLINESLOTSX are committed to preventing underage gambling.
This game can be accessed only after verifying your age. Free games are still available in some online casinos.
Choose a casino to play:

Vulkan Vegas





(603 votes, average: 4.92 out of 5)
Play
Betsafe





(323 votes, average: 4.91 out of 5)
Play

Bizzo Casino





(141 votes, average: 4.90 out of 5)
Play
Min. bet

0.1

Max. bet

80

Max win

64 000

RTP

97.3
Play for real money with bonus
Recommended Roulette Games
The horizontal display is the conventional design of online roulette games. It was true until GAMING1 decided to break the norm and created Vertical Roulette which has impressed many mobile roulette players. Apart from changing the horizontal display of the betting positions, GAMING1 has also purposed to deliver a game with impressive graphics as well as an animated roulette wheel. The free game features a green background at the table, and you can see a large image of a wheel behind the casino table.
In terms of gameplay, the Vertical Roulette is similar to the European version, and it still follows the European Roulette rules. However, there are various ways in which this game delivers a fresh roulette gaming experience. If you are beginner, you can start off with the Vertical Roulette demo game which gives you an idea of what to expect when you want to play with real money.
Basic Vertical Roulette Rules
As earlier mentioned, the Vertical Roulette uses the same rules as the European Roulette and which are easy to understand. To begin, chose your stake by placing chips whose value range between 0.01 and 10 credits. You are required to place your chip on the number/group which you predict will win. It is worth mentioning that your bet is limited to 80 credits per spin. This means that your multiple bets should not be worth more than £80. This can be quite limiting to high rollers, but it is an impressive range for low rollers.
Similar to the European roulette, the game features numbers 0 to 36 and a green '0' pocket. This means that the roulette wheel features 37 slots, unlike the American Roulette variation which has 38 slots. Since this particular design turns the layout vertically, it may take some time to get used to it.
The betting options and payout rates are similar to those available in European variations. You have the opportunity to place a straight bet on a single number, bet on reds or blacks, odds or evens, and also on multiple numbers.
Vertical Roulette Gameplay
GAMING1 Vertical Roulette offers various betting options both on the normal table as well as racetracks. Some of the bets you can place include: straight, split, corner, columns, six-line, first four, doze, high, low and more. With the racetrack options, you can place bets on series that include at least five numbers.
The game is available in both Vertical Roulette online free and paid version. The gameplay, layout, and features are the same in both options. However, with the demo version, you will notice that only the betting table is present. Since the bet limit is set at 80 credits, the game mostly caters to low rollers as well as intermediate players.
The reason why we emphasise starting with the demo version is that it is a great opportunity to hover over the available betting options without the worry of risking your money. It also gives you a chance to get used to the vertical design, which will ensure you have smooth and easy gameplay.
Better yet, since the bet limits range from 0.01 to 80 credits, as a beginner, this is the perfect range to start and raise your stakes progressively. More so, with a 97.3% RTP, you can expect fair payouts on your winnings.
Features and Bet Limits
With this vertical design, you can change the table for left-handed and right-handed play. However, some features are missing in this option, such as the autoplay or fast-play feature. This means you have to manually spin the wheels which call for patience with every round. You can start with the free Vertical Roulette, to help you gauge through the freeplay roulette, and if this is something you can handle when playing for real money.
To make up for the absence of the fast-play feature, the game comes with a special feature that allows you to repeat your same bet or double the bet. Other exciting features that will keep you glued on your screen include impressive soundtrack as well as the unique wheel and board animations.
So the playing buttons are:
A button that changes the view from standard table to race track.
Double your bet and Play buttons.
Betting options.
Undo and Cancel buttons.
Switch hand button is for left-handed gameplay.
The payout rate of this slot ranges in the same level as the standard European roulette payouts variance. It features a 97.3% RTP with a house edge of 2.7%. The vertical design a great option for someone looking to take a break from the horizontal version.
Play the Vertical Roulette on the top of this page for free, or take a look at our casino reviews to find the best sites for real cash gaming.