It's almost that time of the year again when scaring your folks is considered cool, pumpkins become popular again, and having weird costumes is considered such a big deal. Yup…this is Halloween for you, and in this time of the year, all the weirdos and freaks blend in perfectly into the society. It's also that time of the year when your heartbeat speeds up by at least 100%, thanks to some scary kids and weirdos who'll come ringing your bell for treats. But did you know that there's so much more history behind this popular holiday? Below are some quick facts.
🎃 Halloween Is Much More Irish Than the St. Patrick's Holiday 🎃
Halloween traces its roots from a Celtic festival, which celebrated the dead called Samhain. The Irish believed that the ghosts of the dead were creeping on Earth during this time. In an attempt to please the spirits of the dead, people would dress up and left different treats out on their front doors for the dead. It's also true that the Celts weren't only based in Ireland at the time when this custom began, but it's also nice to know that the Irish also invented the Jack-O'-Lantern festival, which is more or less similar to Halloween.
🎃 Jack-O'-Lanterns Were Originally Made Out of Potatoes, Turnips and Beets 🎃
You've read it right. The popular pumpkin symbol used during the Halloween holiday wasn't the original one. The name of it traces its roots back to old folklore, where Stingy Jack would put some coals into a turnip for it to become a lantern. This was when the name Jack-O'-Lantern was born.
Based on a myth, the Irish would carve scary faces into potatoes, turnips and beets in a bid to scare off Stingy Jack or other spirits which they believed roamed out during the night. So why would they have to switch from the potatoes, turnips and beets to the pumpkin? That's a good question. We believe it could be because it's much easier to carve into the pumpkin due to its size. Or it could be because they didn't want any scary face to look like a potato head…you never know!
🎃 In the United Kingdom, White Cats Are Considered to Be a Bad Omen – Not the Black Ones 🎃
Unlike much of the Western world, where black cats are considered to be a bad omen, most countries across Europe and Asia consider them a good omen. On the contrary, the white cats are seen as a bad omen. In the United Kingdom for instance, anytime a white cat crosses your path it could be a bad sign, especially during the Halloween holiday.
🎃 Halloween Is One Scary Holiday, and So Are the Halloween Games 🎃
How awesome are some of the facts associated with Halloween, LOL! But in addition to the name, and the so yummy treats that are offered across multiple casinos, there are games that you can choose to play that are based around the holiday. These Halloween games have been developed by reputable software companies and they are readily available for play, through the free slots no registration program.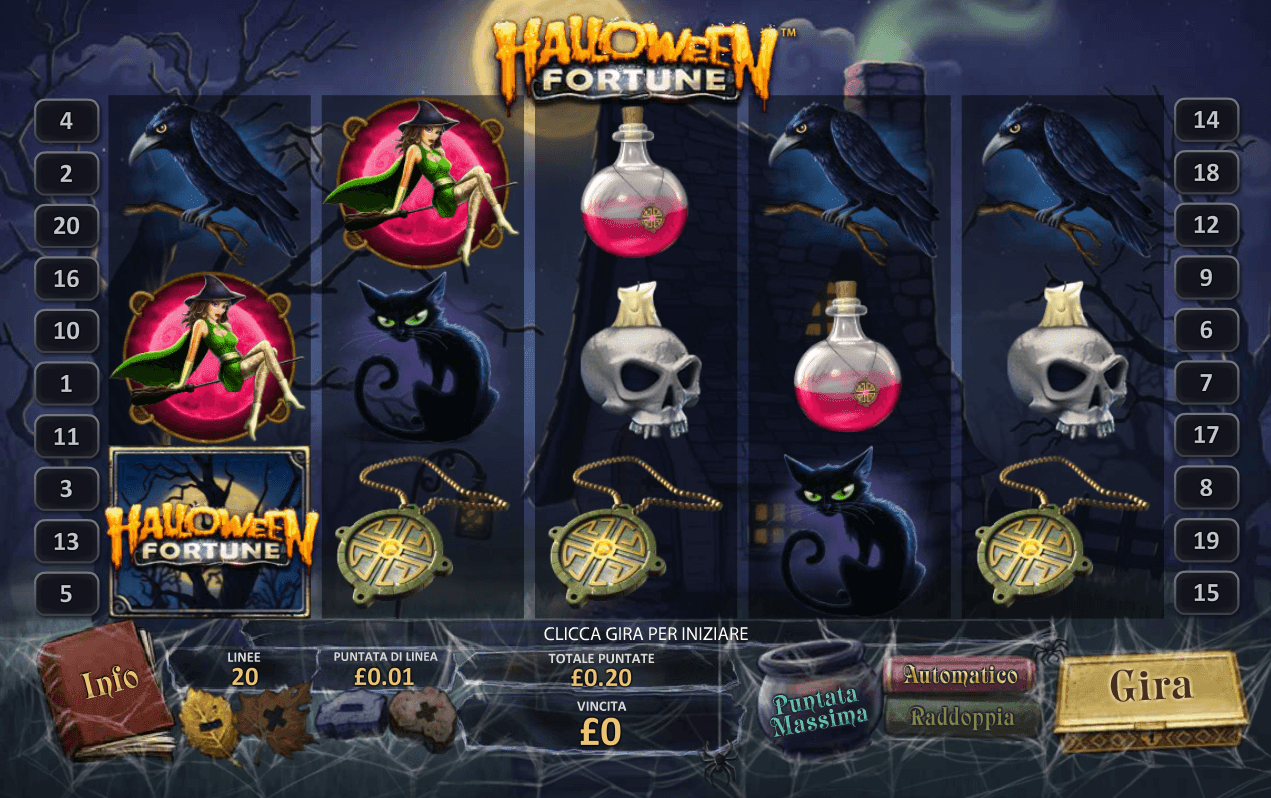 🎃 Halloween Fortune – Playtech 🎃
Playtech's Halloween Fortune Slot lets you hop on your broomstick and immerse yourself in a creepy world filled with witches. This 5 reel by 20 payline slot game features sharp animations and promises spine-tingling entertainment. To add the reward factor in it, there's are several bonus games. They include the free spins game, the Witches' Brew Bonus game and Cauldron Bonus round. Also, matching up five of the Jack-O-Lantern Wilds will see you get rewarded with up to a 10,000 coins bonus.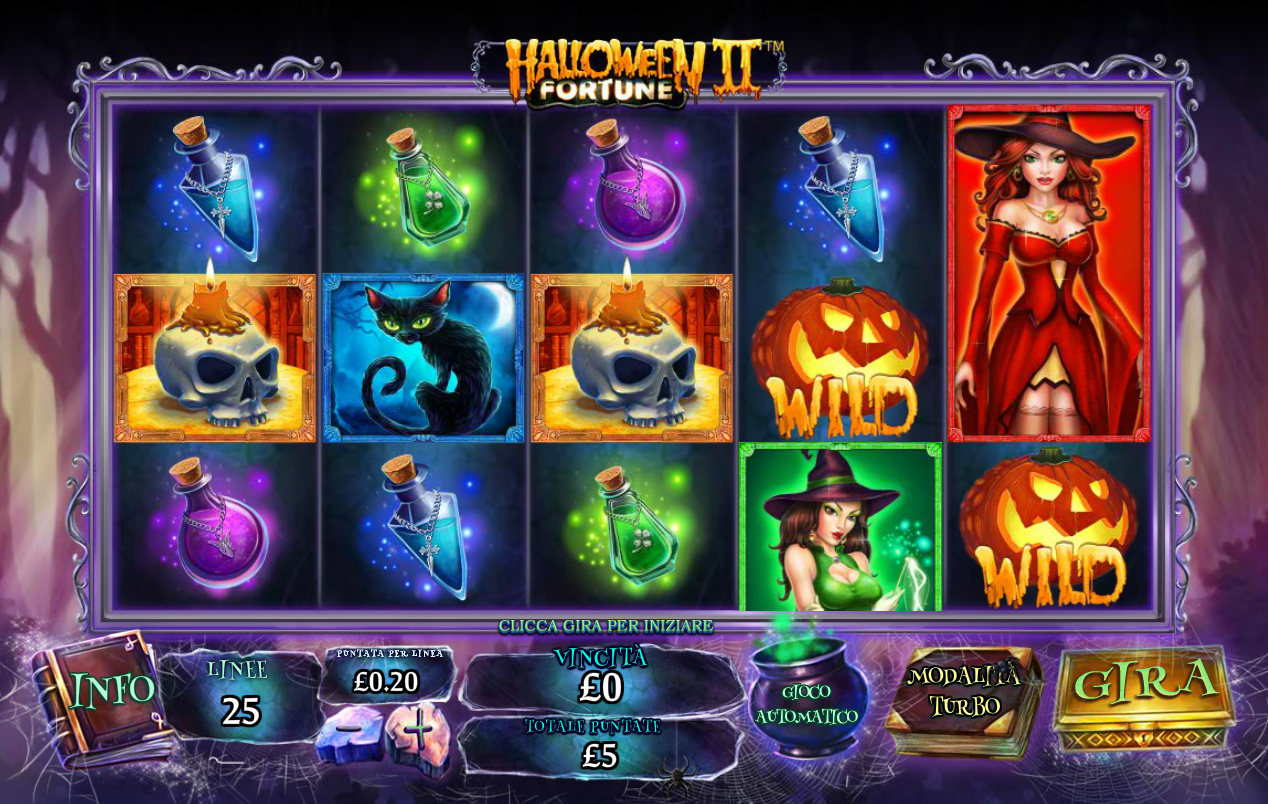 🎃 Halloween Fortune 2 – Playtech 🎃
Halloween Fortune was one of Playtech's most successful Halloween Slots, which is why they decided to release a sequel to the original game. Halloween Fortune 2 is a game designed for players who fancy a touch of the occult. The game includes a trio of beautiful witches, who are ready to cast their magic and spells on things so that you can receive the good fortune your way. Cats, broomsticks, crows and potions are all symbols found on the reels and come with different payouts just for you.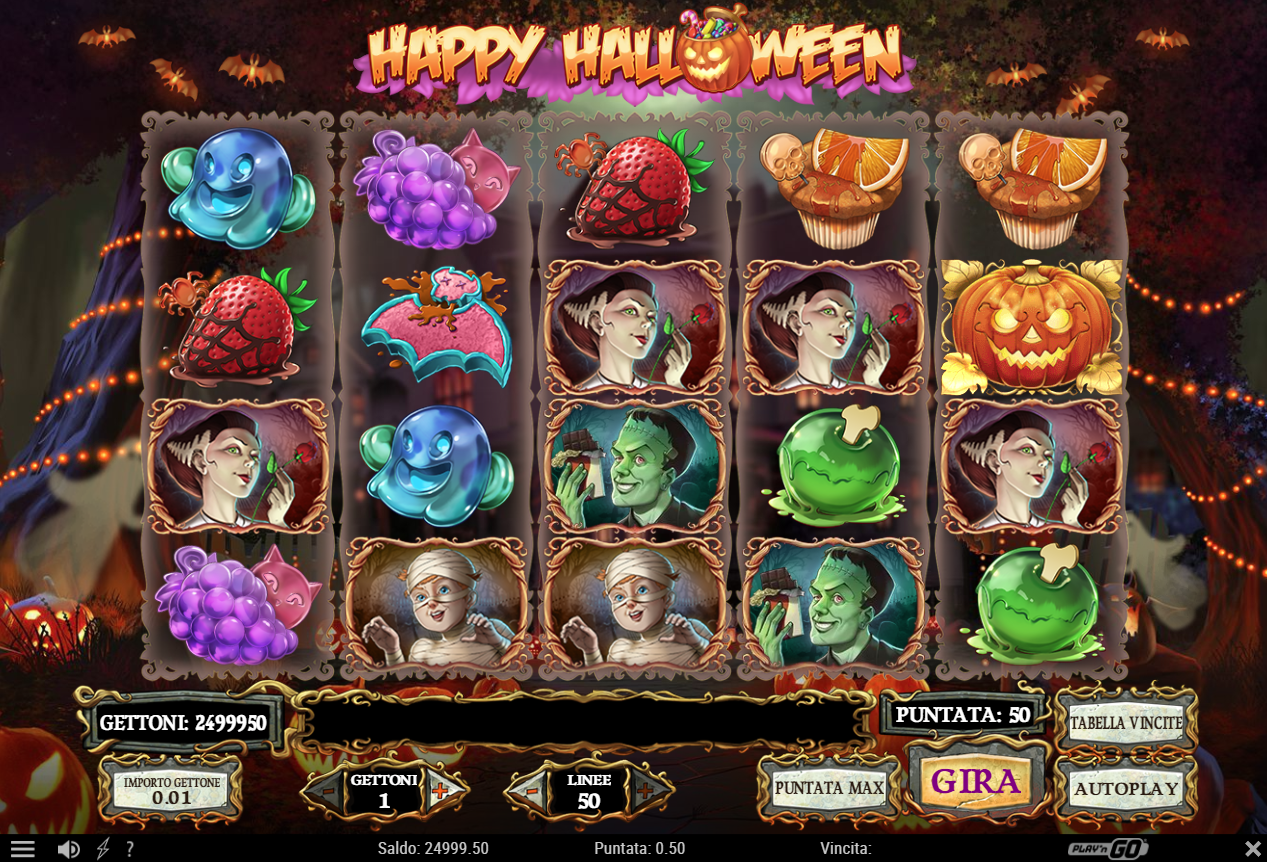 🎃 Happy Halloween – Play'n Go 🎃
If you are the type that's always mesmerized with ghouls and ghosts, then you'll definitely enjoy playing this delightfully creepy Happy Halloween Slot by Play'n Go. Unlike most of the Halloween Slot Machines that have overdone graphics, Happy Halloween Slot comes with exquisite details. It has intriguing animations and bright colours that will definitely draw you into the haunting world. Symbols in the game feature Jack O' Lanterns, Mummies and Halloween Sweeties that spin on the 5 reels set against flickering candles.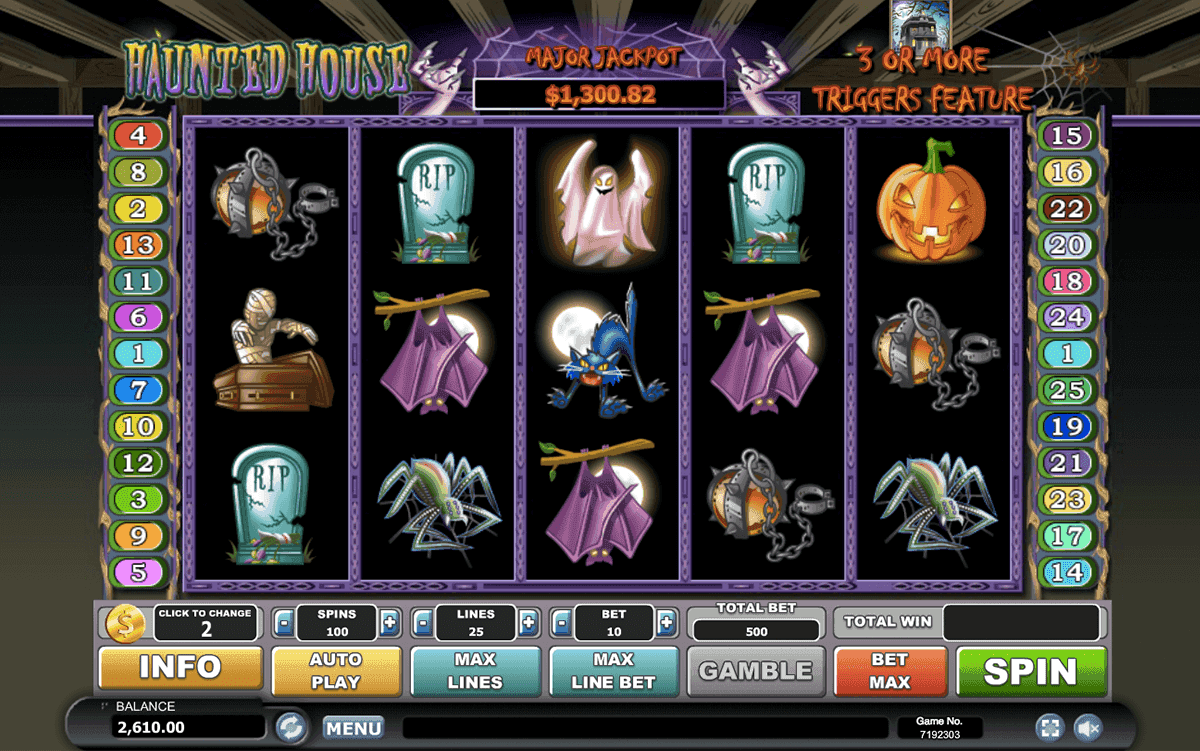 🎃 Haunted House – Habanero 🎃
Frightening whispers, creepy music and spooky sound effects have been combined together perfectly to bring out the 'spooky feel' in Habanero's popular Halloween Slot – Haunted House. The game includes scary symbols such as creepy candles, haunted door knocker, and spooky bats. Together, they work to ensure that you win different prizes.
Land at least three Halloween bonus charms symbols to trigger the spine-tingling bonus game, where you are supposed to pick items for cash prizes. Other rewarding mini-games include a free spins bonus round and a gamble bonus game.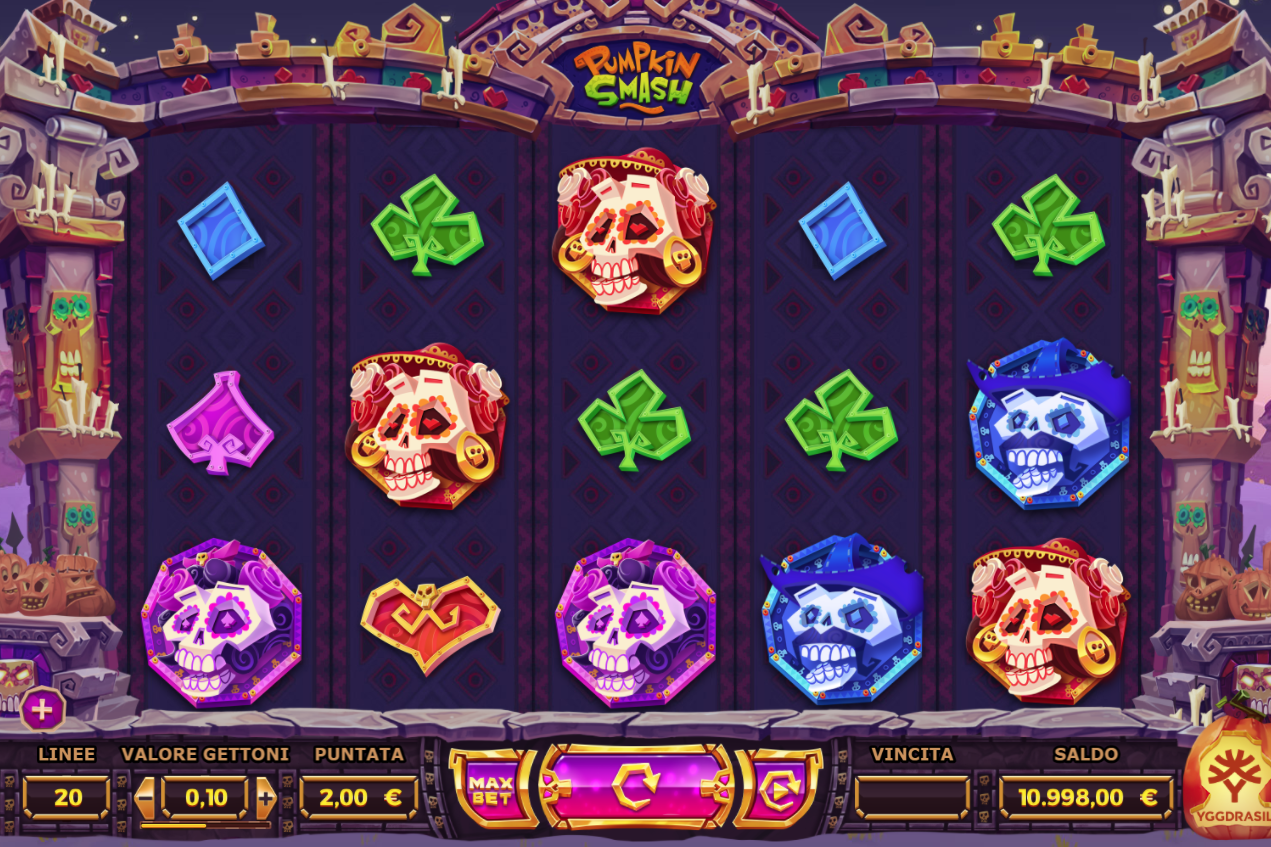 🎃 Pumpkin Smash – Yggdrasil 🎃
Pumpkin Smash Slot is not a trick, but it's just a treat for all the avid players. This is a smashing slot based on the 'Day of the Dead; Mexican holiday. It combines this festive with the Halloween theme to bring out a scary slot game. Pumpkin Smash features vibrant effects and bright colours which liven up the gloomy features associated with this holiday.
Pumpkin Smash's gameplay constitutes of 5 reels and 20 paylines. In order to win, you need to land at least three matching symbols from the leftmost reel on an active payline. It also has wild substitutions for bigger wins, and scatter wins for more free spins. There's also a Kooky Pumpkin symbol, which is responsible for triggering the Kooky Pumpkin bonus game.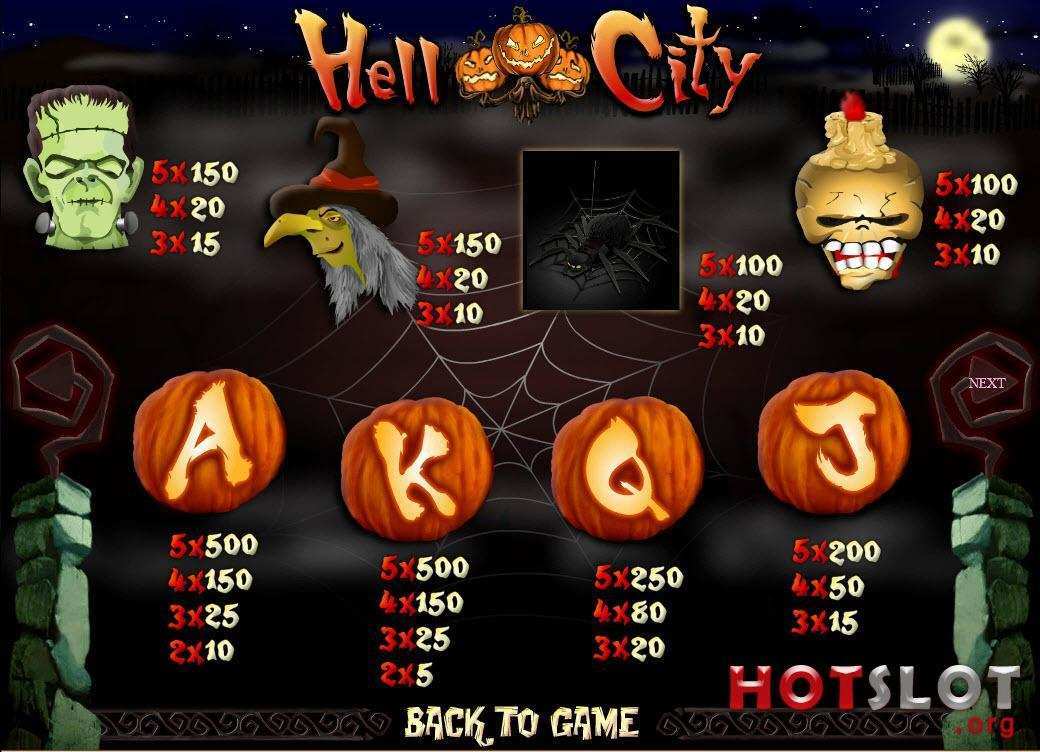 🎃 Hell City – iSoftBet 🎃
iSoftBet will take you to the city filled with creepy creatures such as witches, vampires, ghosts just to mention a few in their thrilling release Hell City Slot. And it's your responsibility to make your way out of the creepy situation as you play the game in a bid to get rewarded with cash prizes and bonuses.
Hell City Slot has 5 reels and 5 paylines that are adjustable. It also features wild substitutions, scatter wins and multipliers that work hand in hand to ensure you win the game's top prize set at €8,000. As a medium variance Halloween game, you can expect wins from time to time. So it's up to you to ensure that you have a good bankroll management plan to ensure that you are a winner more often.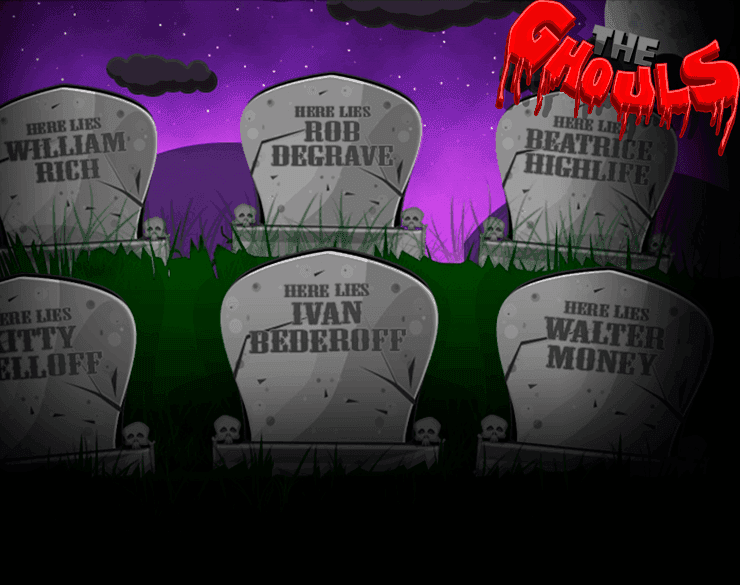 🎃 The Ghouls – BetSoft Gaming 🎃
There's a Halloween wonderland awaiting players with the courage to face spiders, witches, and terrifying mummies in BetSoft Gaming's popular Halloween Slot – The Ghouls. Land 5 haunted house icons on the reels to walk away with the game's jackpot. If you miss on this, there are the exciting bonus games which are triggered by the Tombstone and Wild symbols. The Dracula will also have your head spinning round with 5, 10 or 20 free spins! The number depends on the number of Dracula symbols you land on the reels.
🎃 Halloween – Microgaming 🎃
The awesomely good slot developers at Microgaming decided to come up with a Halloween themed slot known as Halloween – a game that draws inspiration from the iconic John Carpenter film that was aired in the 1970s. Who on this earth could forget about the maniacal slasher, Michael Myers? He was the main reason why one would experience the heebie-jeebies years later after watching the film….
Just as you'd probably think, this game has been designed with all the details from the movie. It's as creepy and sinister as the film itself. The game's reels are set on the house where all the events in the movie took place as the lightning and thunder rage in the backdrop.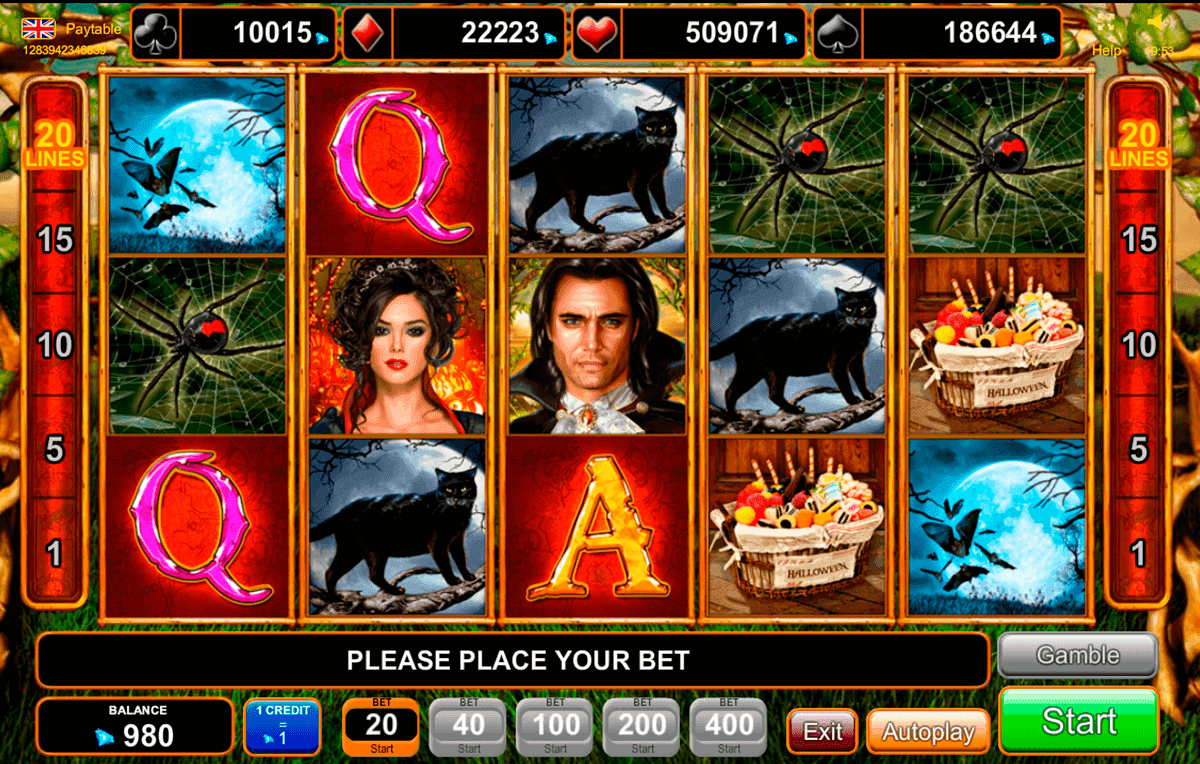 🎃 Halloween – EGT 🎃
Halloween Slot is another version of Halloween developed by EGT. The game might share a name with Microgaming's Halloween Slot, but it has a totally different theme and offering. First off, the game treats you to numerous bonus games, which provide added wins. It also has cash prizes that amount up to 20,000 coins. The game has a low volatility, which means that it pays out more often but small wins.
🎃 Play Free Slots No Registration Required at Licensed Casinos 🎃
All the enlisted Halloween games above are readily available across most of the online casinos. However, to ensure that you have a high probability of winning the games, we recommend that you only visit licensed online casinos. These sites have games that are audited and tested frequently to ensure that they have fair and random results. Furthermore, you can always play the games for free no registration needed. This lets you have an insight into what to expect from the games when playing for real cash.