European Roulette VIP





(68 votes, average: 3.96 out of 5)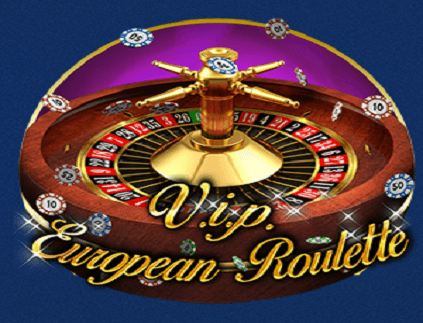 The UK Gambling Commission & ONLINESLOTSX are committed to preventing underage gambling.
This game can be accessed only after verifying your age. Free games are still available in some online casinos.
Choose a casino to play:

Vulkan Vegas





(603 votes, average: 4.92 out of 5)
Play
Betsafe





(323 votes, average: 4.91 out of 5)
Play

Bizzo Casino





(141 votes, average: 4.90 out of 5)
Play
Play for real money with bonus
Recommended Roulette Games
European Roulette VIP by the Gaming1 software developer is one of the well-known roulette games in the market. It is based on the high roller roulette theme and built on Flash technology. There is one wheel in this video roulette, and you have to guess the number on which the ball will land in order to win.
This roulette is based on a European Roulette set of rules, meaning that it has 37 numbers in total. The RTP of VIP Roulette is 97.3%. And with betting limits from 1 credit to 800 credits, it seems that players have great chances to pass their time pleasantly.
How to Play in Roulette VIP
To start playing, you need to select a bet value and click on the table to place a chip. If you keep on clicking the value of the chip would keep on increasing. You can undo the bet in European Roulette VIP as well and clear all the bets on the table.
It is also possible to double your bets by clicking the "double" option.
In order to make the wheel start spinning, you have to click the "spin" option.
When the wheel stops, you have two different options. One of the options is to "rebet" by changing your stakes, the other is to "spin" the wheel again with the same bet value.
There is an auto-spin option available for the players to continue spinning the wheel with particular bet value. If you want to stop the "auto-spin" option, you can do it manually.
Free and Real Money Playing
You can play the Roulette VIP free game on our free roulette gaming site – no download and no registration required. Playing in demo mode is the best way to learn the rules and to make your own strategy.
In order to play in European Roulette VIP and win cash, you have to select an online casino providing this game. Once you have selected the platforms, you have to create an account as most of the time players want to play with real money. After creating your account, you have to deposit money into your online account, and once the money is deposited, you can start betting with real money. You can also withdraw the winning prize to your bank account using the same online account.
Features and Bet Limits
There are various features of Roulette VIP that have attracted hundreds of thousands of players from around the globe. Some of these features include the "auto-spin" feature and an option to cancel out all the bets and affected payouts if there is any functional error in the game. A few of the other important features are mentioned as under:
There is a proper roulette simulator to give you a Vegas casino feel and test your skills.
If you want to play for free, you have a great range of casino chips.
You can choose between a regular and racing track tables.
The racing track contains the standard betting options, plus red and black splits.
You can play the demo version for free or play the paid version and win real money.
The betting limit ranges between 1 and 800 credits. You can use the casino chips with values 1-100 to make stakes.
You can play a free roulette VIP with the help of a roulette VIP demo game. The freeplay roulette demo version gives you a chance to play without spending real money. You can enjoy all the functionalities and features of the original game in the roulette VIP online free. As it is an online game so you don't have to download anything and you just need an active internet connection to start playing.
Summing-up
According to our review the payout rates, the option of the free game, plenty of features, and easy to understand rules make this online roulette game a treat for the players. Accessing this Gaming1 roulette is extremely easy as you can find it on our site. You just have to spin the wheel and guess the number on which the ball will land to get an instant win.
Overall it is a really attractive slot with a proper Vegas roulette table look. It is affordable for the beginners as well as the lowest bet value starts from 1 credit, although it is more favourable for the high rollers. There is no jackpot available, and it is highly recommended to read all the rules and regulations before spinning the wheel.